PERSONALLY PAID RELOCATION
We Move Families, Not Just Furniture
Each and every step of a move is important. Whether it's across town or across the country, Weleski Transfer offers award winning planning tools and services. Our staff of expert moving consultants work with you to ensure an efficient, well thought out move.
Weleski Transfer offers an array of residential relocation services locally, nationally and internationally:
Household Goods Moving
Packing Options - Full Service, Partial, No-Pack
Unpacking Options - Complete, Partial, No-Unpack
Maid Service and Debris Removal
Appliance Servicing
Crating for High Value Items
Various Storage Options - Palletized, Self-storage
Climate Controlled Moving and Storage for Wine or High Value Art
Can your moving company answer "Yes" to each of these 6 questions?
Is your company in good standing with the Better Business Bureau?
Are your move crews fully trained by a professional training staff?
Will my move be picked up and delivered with your own crews and trucks?
Are all of your employees drug and criminal background checked?
Will you assure me that I will receive an accurate and competitive price for my move?
Will you assure me that my move will be picked up and delivered on time?
If they answer "No" to even one of these questions, it's time to call Weleski's
we are residential moving specialists and here's the proof:
Weleski Advantages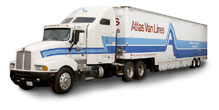 Nearly 100 of moving experience over three generations
Part of the nationally acclaimed 800 member Atlas Van Lines family of agencies
Recipient of nationally-recognized Milt Hill Quality Award
Self Haul and Self Pack Commitment
Valuation Options (discuss with your account coordinator)
Award-winning Hauling Claims Ratio
Modern, large, local and long distance hauling fleet - over 70 units in service around the country
Full time, professionally trained employees who are all drug and criminal background screened
In-house dispatching and claim service
Personal Move Coordinator assigned to each move providing a single point of contact communication
On time, single day delivery spreads available
24/7 ability for problem resolution, etc.
All moving bills are audited at our local office.
Storage - 300,000 square feet of warehouse storage and various sizes of self-storage units
Group Move Management (link to GSA page)
Your Weleski Team
The Weleski staff assigned to your relocation is a team dedicated to making your transition to your new home as stress-free as possible. Your team is comprised of:
Your Move Coordinator- This person is your single point of contact whose job is to provide consistent communication with you from your initial phone inquiry to a follow-up contact once your move is complete.


Your Van Operator/Driver - The driver assigned to your move is responsible for your household goods from beginning to end. He will handle your possessions with extreme courtesy - both safely and securely.


Your Moving Crew - Our crews are the best in the industry. They receive on-going training from our professional in-house trainer and are continuously encouraged to improve their skills and service.


Planning Your Move
Because your move is so important, to you and to us, we want to know your concerns and your needs from the very beginning. During pre-move counseling, we bring you proven advice and helpful planning aids to make the day-by-day activities of your relocation easy.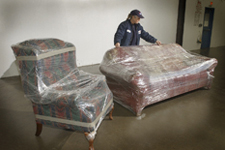 Estimating Accuracy
We work with you to provide the most accurate estimate possible. So, for the best results, take your Weleski representative through every room and storage area, the attic, the basement, the garage, the tool shed. Point out things that may require special handling and packing, like fragile porcelains, family heirlooms and valuable antiques.
Out-of-State Moves
You have several pricing programs to choose from when moving to another state. Established rates are published in an industry-wide tariff and are public information. Pricing is based on weight, distance and services. Your Weleski representative can help you understand your options and select the services that are correct for your unique move.
Liability Protection
As is standard in the industry, Weleski offers basic liability protection for your belongings. This coverage is limited to 60 cents per pound per article at no cost to you. However, basic liability protection may not provide enough coverage in the unlikely event something is lost or damaged. You may decide upon full value protection, an affordable choice for peace of mind.
Whatever your choice, please don't hesitate to ask questions. We're working together on a great move for you, and we want you to understand your options and be confident in your decisions.
Still have Questions? Feel free to request any the following literature pieces:
"How To" Guides:

Move Your Pets
Move Your House Plants
Hold A Moving Sale
Pack For Your Move
Move Your Antiques, Electronics, and Collectibles
Stretch Your Moving Budget
Deduct Moving From Your Taxes
Our "Important Information for When You Move" brochure includes the following information: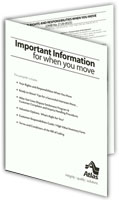 Your Rights and Responsibilities When You Move
Atlas Van Lines Dispute Settlement Program and Customer Complaint and Inquiry Handling Procedures
Valuation Options: What's Right For You?
Statement of Customer Responsibilities and High Value Inventory Form
Terms and Conditions of the Bill of Lading
Other literature you might find useful:
Moving Day By Day Calendar
Interstate Moving Guide
Payment Options Brochure
Payment Options: Cash, Checks, Credit Cards


Diners Club International
Contact Information:
724-224-3330
Marlene Licata Ext. 343 - Email Marlene Licata
Lauren Weleski Ext. 354 - Email Lauren Weleski